Ok, I did it!
I returned to Seattle on the 1st of June and gave one final talk, to the Seattle AWS User Group, on the 3rd. I spent the following week filing my expenses, writing my trip report, and writing my report for my UW MCDM independent study class. My professor responded enthusiastically to my report and I am all set to graduate tomorrow!
Here's a copy of the report (click on the image to download):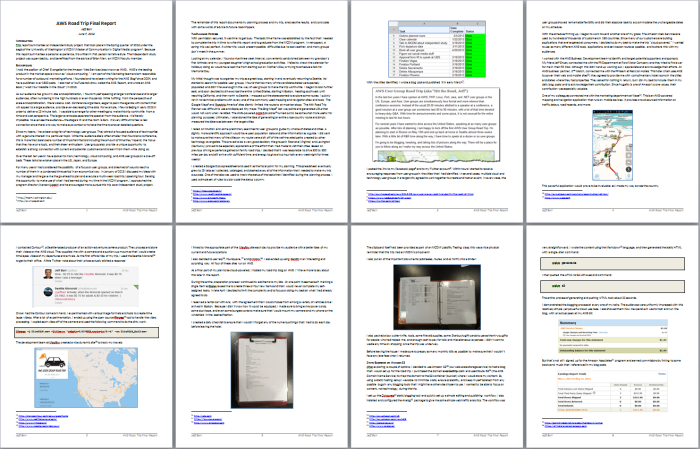 Based on this work, I was also nominated for MCDM's Communication Leadership Student Award, which will be presented at the upcoming MCDM Screen Summit. It would be a real kick to win!
I would like to take this opportunity to thank everyone involved:
My work colleagues for their support.
My family for their understanding, support, and awesome greeting.
Red Lion Hotels for accomodations in multiple cities.
MapBox for the really cool map.
The user group leaders in all fourteen cities.
Contour for the loan of the video camera.
Everyone who came to one of my user group talks and asked such great questions.
Everyone who followed my trip through this blog.
Here is a representative version of my presentation. I changed it a bit from talk to talk based on feedback:
Based on the success of this road trip, my AWS colleagues in Singapore are in the process of booking me for a series of user group talks in Southeast Asia in July of 2013. The planning is still underway but it looks like I will be speaking in Singapore, Kuala Lumpur, and Manila. Stay tuned to this blog for more information on this exciting development.
Several of my friends and colleagues have asked me if this was a one-time event or if I would consider doing it again. At first I thought that this was a bucket list kind of thing. However, now that I am rested and have had some time to think about it, I will definitely think about doing it again in 2014.