I was up early and out of the hotel at 8:00 AM. I drove from Medford to Grant's Pass and had a delicious breakfast at the Black Bear Diner with a developer who had emailed me the week before with some questions about AWS.
I left Grant's Pass shortly after 10:00 AM and arrived in Portland shortly before 3. This was one of the more twisty, curvy, and scenic parts of my entire trip. I'd like to travel it again and take the time to really see it.
Here is my arrival video:
I checked in to the Red Lion Portland Convention Center, cleaned up, and headed over to the AWS Meetup, which was scheduled to start at 4 PM.
Here's a photo before the seats filled up and things got underway: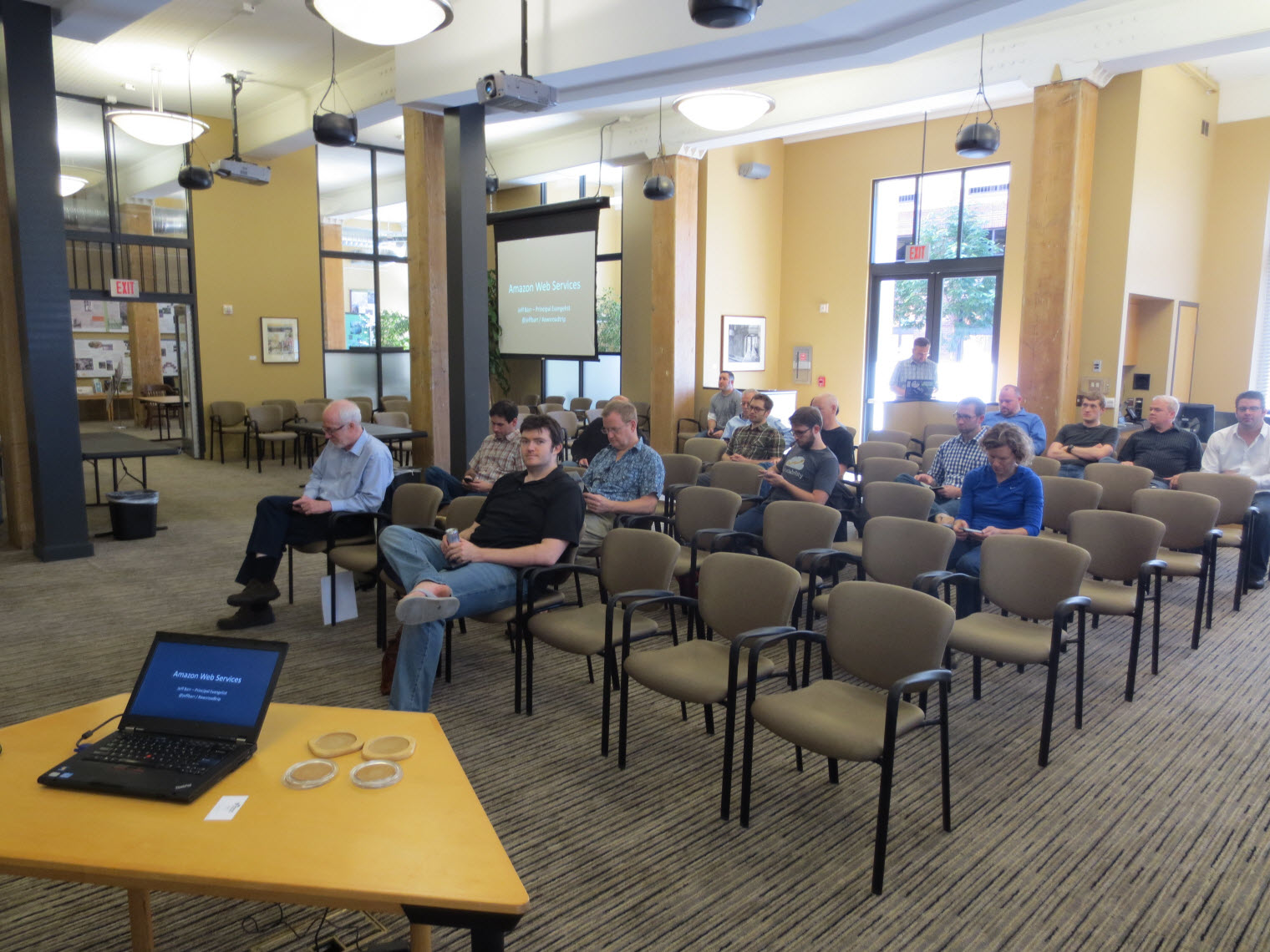 Early in this talk I felt rather fatigued but things got better as I went along and everything turned out fine. As usual, several people asked for Postgres, and a couple of others asked about OSX.
The best question of the night was "Andy Grove of Intel once said that 'Only the Paranoid Survive.' What are you paranoid about?" After giving this a moment's thought, I replied that this kind of thinking was appropriate for companies that focus on competitors, but that we focus on customers. I then elaborated on all of the ways that we listen to, learn from, and respond to the requests that we get from our customers.
A sight-impaired man who came in with his dog asked me to tell our documentation people to include descriptive tags on all of the images in our documentation. That's a great idea and I will. I will also try to do this for images that I post to the AWS Blog.
After the event I returned to the Red Lion, got a salad, a burger, and some asparagus spears from the nearby Burgerville, and was sound asleep by 11:00 PM.
I'll get up early tomorrow and hope to be at home before noon!
Total miles for the day: 276.6
On the iPod: Early 70's rock.