I spent extra time checking the weather this morning to make sure that it was safe to travel. There were a few threats, none of which materialized: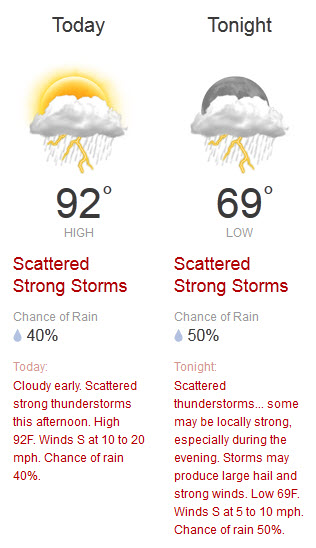 I left my Dallas hotel at around 8:15 AM, with a plan to visit the Czech Stop in West, Texas just in time for brunch. This restaurant came heavily recommended and I was really looking forward to having my first taste of a kolache. However, this brunch was not to be. The highway exits are being demolished and reconstructed and I was not able to exit as planned. By the time Waze (and I) figured out that I had gone too far, I was facing another 7.5 mile drive in order to make a U-turn. I love to eat, but this seemed like an ill-considered detour.
I encountered a lot of traffic on the way out of Dallas, so today's exit video shows a lot of start/stop driving:
As I have said before, this video is of considerably lower quality than the raw MOV file from the Contour.
The remainder of the drive was smooth and the 200 mile trip went by fairly quickly. I reached two minor milestones - I saw the first Ikea store of the trip, and I reached the halfway point, miles-wise, of the trip.
Here's my entrance to Austin:
After some email, I was getting hungry and Yelped for some BBQ. I ended up at a place nearby called Rudy's Country Store.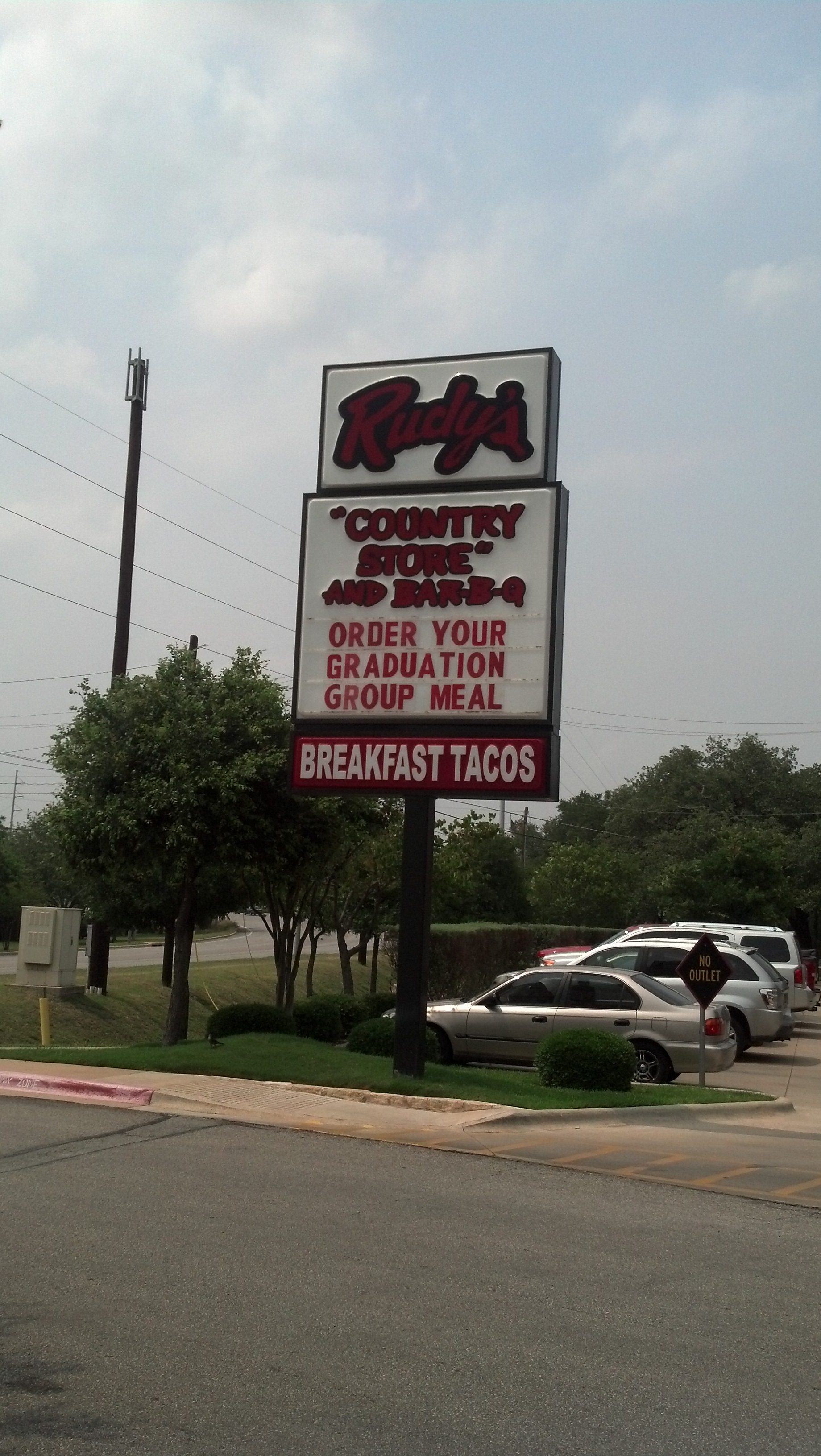 The cashier was very friendly, and asked me where I was from, shouting "Seattle" to everyone else in line! This was surprising, but sweet. She brought small samples of their three types of meat to me and all were delicious. I ended up choosing the "Moist Brisket" and some spicy beans:
As I was making my way to my table, I spoke with someone who had overheard "Seattle" and he told me that he'd lived in Redmond and worked at Microsoft for seven years.
I returned to the hotel, spent some time in the pool and the spa to relax, and dressed for the Austin Cloud User Group. I drove over to the venue (thanks again, Waze and connected with Ernest Mueller, Karthik Gaekwad, and James Wickett to get set up.
The pizza dinner was sponsored by Bazaarvoice, Ernest's employer.
My old friend Jason Levitt was at the event. Jason wrote the first comprehensive book on Amazon's E-Commerce Service. This service, launched in 2002, was the direct precursor to today's AWS.
The talk went well and I didn't wrap up until almost 9 PM. I gave out lots of AWS Swag and a bunch of $100 credits. I caught up with Misha from Alert Logic, and took a photo with another one of his colleagues.
My colleagues Martin Carlson, Dan Carpenter flew down from Dallas, and were joined by Harris Thayer and Alan MacInnis. Here I am with Martin and Dan after the event: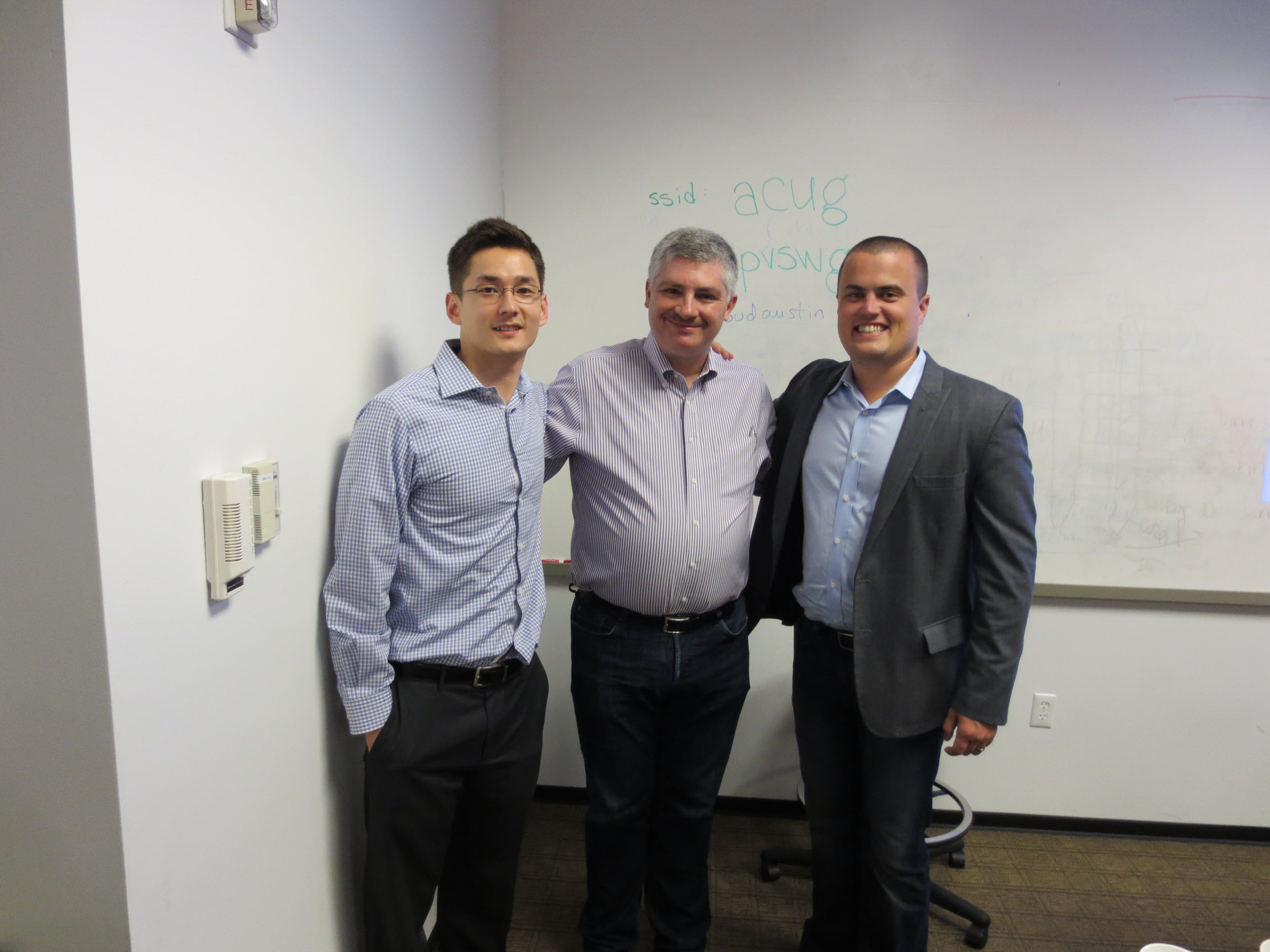 .
Tomorrow I'll start on a two-day drive to Phoenix. This will be a long, arduous drive so I'll write my next blog post when I arrive in Phoenix on Friday prior to speaking to the Phoenix Cloud Entrepreneurs.
Here's my MapBox for the day: