Our story begins in the Seattle suburb of Sammamish on a quiet Sunday morning. After months of preparation and hundreds of emails it was finally time to start the AWS Road Trip! I work up bright and early, wished my wife a Happy Mother's Day and waited at the curb for my ride.
Nori from Atlas Towncar picked me up at 8:30 AM as planned and whisked me to Seattle-Tacoma airport.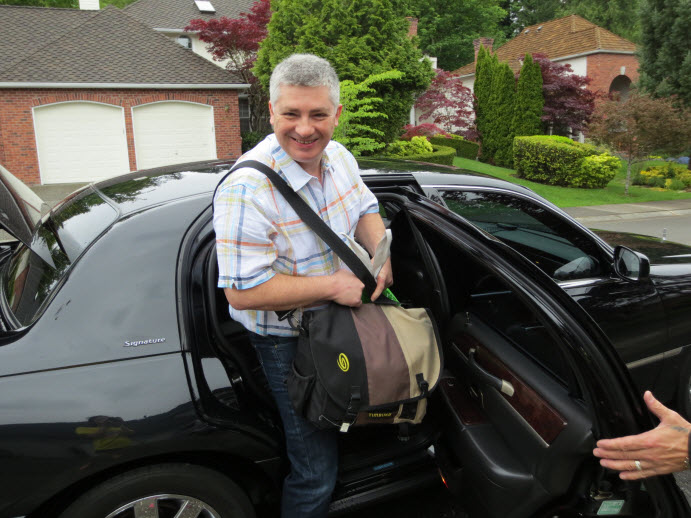 Note to my Amazon colleagues: Despite appearances, the town car is less expensive than a taxi. Frugality has been maintained!
I was carrying a lot more in the way of cables and supplies than usual and my roller bag weighed in at over 47 lbs. I checked it in at the jetBlue counter with no problems. during the online checkin process I upgraded to an Even More Space seat for just $60. In addition to gaining a lot of leg room, I was able to use the premium security line.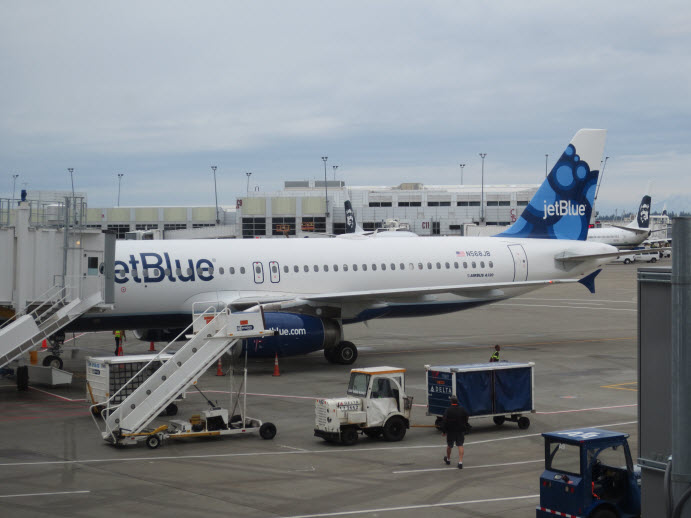 The flight was smooth, I had two empty seats to my left, and we arrived on time. I read Jason Merkoski's new book, Burning the Page on my Kindle Fire HD, and balanced it out with the latest copy of Make, which I read in paper form. Jason's book was informative and entertaining, but I do need to write to him to correct his claim to being Amazon's first technology evangelist. I beat him to that honor by several years.
I found the baggage claim and took the shuttle bus to the Avis facility and presented my credentials for my rental. I explained my plan to Kim, and she said that I was eligible for a small SUV. After lots of typing and a consultation with the supervisor, she was finally able to book it for me at the rate I had reserved. I went out to the parking lot and found my wheels, a nicely equipped Ford Edge: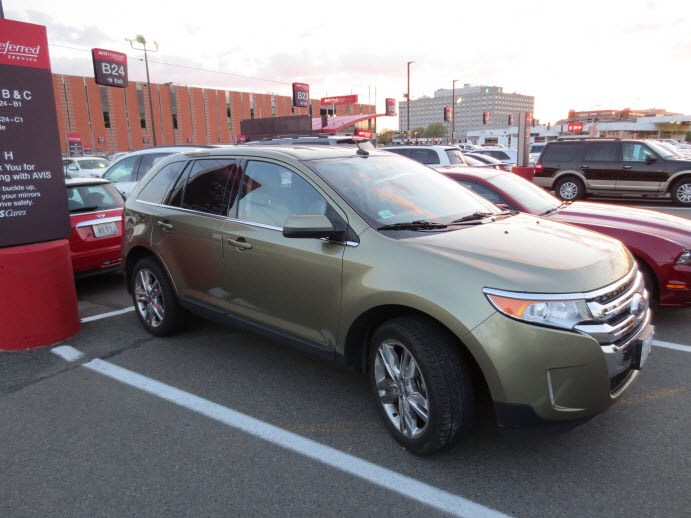 I mounted my phone and my Contour camera on the windshield, spoke my destination into Waze and drove to my hotel. I missed just one turn (before leaving the airport) and made it to my hotel in short order. Here's a time lapse video of my drive, captured on the Contour camera and then processed using ffmpeg:
After parking and checking in, I took a short walk to get some fresh air and took a nice picture of the Charles River: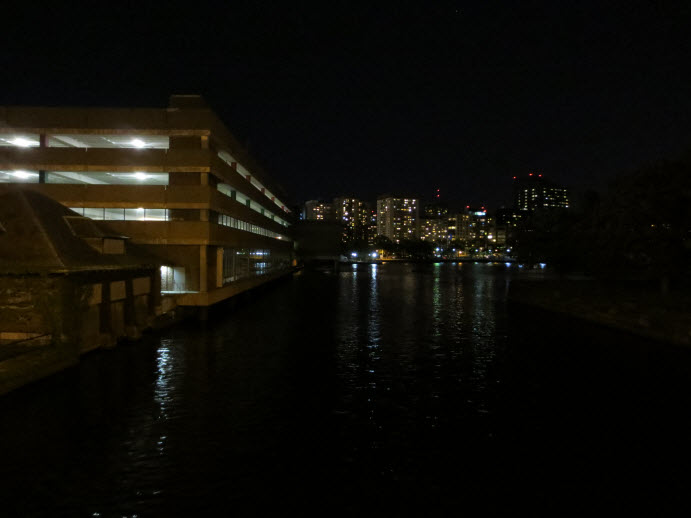 I ate a dinner of clam chowder and Caesar salad, called my wife, and ended the day by watching half of an episode of the short-lived comedy series, Better Off Ted.
Tomorrow is Monday. I will write a couple of blog posts, meet with a couple of companies here in Boston, and then proceed to the main event, the Boston AWS Meetup.
Here's my MapBox for the day:
Total driving for the day: 5.3 miles.