Welcome to the AWS Road Trip Blog!
The Story
In the last ten years I have spoken at AWS, PHP, Linux, Perl, Java, and .NET user groups in the US, Europe, and Asia. User groups are simultaneously less formal and more intense than conference sessions. Instead of the usual 20-30 minutes allotted to a speaker at a conference, a good session at a user group can sometimes last 60 to 90 minutes, with a lot of that time devoted to heavy-duty Q&A. With time for announcements and some pizza, it is not unusual for the entire meeting to last for two hours.
For several years I have wanted to drive across the United States, speaking at as many user groups as possible. After lots of planning, I am happy to kick off the first AWS User Group Road Trip.
The Plan
The road trip will begin on Sunday, May 12th when I fly from Seattle to Boston. I will pick up my rental car and drive across the United States, speaking at a total of 14 technology user groups. I am also delivering a few private talks that are not on my public schedule.
I'm going to be blogging, tweeting, and taking lots of pictures along the way. You can follow my tweets and subscribe to this blog to follow my cross-country journey!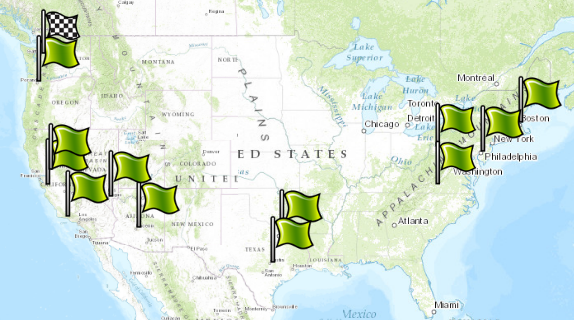 The Schedule
The response to my initial post on the AWS Blog was really encouraging. With a little bit of poking around, I was able to find groups in just about every city of interest along the way. Even better, every group was very flexible and was able to accomodate my schedule. In some cases, multiple groups in the same city have joined forces to create a bigger and stronger local event.
Here is my itinerary:
Week 1
Week 2
Week 3
Week 4
Monday, June 3 - Seattle, WA - NW Cloud.
Some of the groups still have seats available! Please click through and register if you would like to attend. I'll have some AWS credits and stickers for attendees and hope to see you there.
Along the Way
This is not going to be a leisurely vacation road trip, but do hope to see some sights, enjoy some regional cuisine, and have some fun along the way. I am planning to visit one attraction from Roadside America each day to keep things interesting. I'm open to suggestions that aren't too time consuming.
I'm an early riser; my alarm clock is usually set for 5:15 AM and I am often at the keyboard by 5:30. In order to get an early start and to avoid hot, late-afternoon drives, I'm planning to get up at 4-something and be on the road well before 6 AM. This should allow me to make good progress before noon so that I can arrive at my destination in time to wash up, relax, and catch up on email.
I will be capturing video from my car using a Contour+2 camera, generously loaned to me for the trip by the good folks at Contour. The Contour site stores static images and videos in Amazon S3 and uses Amazon CloudFront for content distribution.
I will be navigating using Waze, a free traffic and navigation app that runs on my Droid and aggregates traffic and accident data supplied by other Waze users on the same route. Waze runs on AWS, so my car will be, in effect, an AWS client!
AWS Powered
One of my original goals for this trip was to make it cloud-powered, using consumer brands, products, and services that make use of AWS in some way. Here's what I have come up with so far:
Behind the Scenes
I'm using this trip as an opportunity to learn about and experiment with static blogging.
I launched an EC2 instance using the Bitnami Ruby Stack from the AWS Marketplace.
I installed Octopress, and S3cmd. did some customization to make it easy for me to deploy my site to s3, and generated my first post:
rake new_post["Welcome to the AWS Road Trip Blog"]

I use Emacs to write each post in Markdown. At any point I can generate a new static site and upload it to S3 like this:
rake generate deploy

The entire process takes less than 12 seconds!
I'll upload images to S3 using the venerable S3Fox tool, and will construct CloudFront URLs using S3Fox's convenient right-click menu.
Extra Credit
In addition to my work on the AWS team as Principal Evangelist, I am also a part-time graduate student at the University of Washington. I will graduate from the MCDM (Master's of Communication in Digital Media) program in June of 2013. I am using this road trip as an independent study project to earn my final 5 credits.
See You There
I hope to see you at an event in your city. If you read this and come to an event, please take a minute to say hello! I want to meet and learn from as many AWS fans and users as possible on this trip. See you soon!
– Jeff;